Actually I believe May flowers bring May showers, at least today they do! It's been a rainy, grey and chilly day here but it did provide May flowers, at least some backstitched May flowers. Here is SanMan's May 2010 blackwork pattern. At first I wasn't sure about the yellow floss on such a light color fabric but I think it turned out nice.
I worked on
Hot Stuff
as well, but didn't take a picture because I only added the foot and tail of the mouse. I worked on it Wednesday while watching Happy Town on ABC and ended up doing more watching than stitching! lol
I'm really excited that I won a kit on eBay last night that I have been wanting for a long time. It's called "Suzy's Zoo Train Birth Announcement" and was released by Janlynn in the mid 90's. I am a big fan of Suzy's Zoo. It's been around since the 70's and my Aunt collected it as a teen in the late 80's and 90's, so I have many fond memories of Suzy's Zoo birthday cards, notes & letters growing up. Just about anything you could imagine they made back then, ceramics, coffee mugs, stuffed animals, coloring books, magnets, ornaments, party decorations, clothes, cross stitch kits and then all the stationary, cards, stickets, etc they are specifically known for. The production of these things and their popularity started to wain in the late 90's as they moved more into baby themed stuff (nursery sets, baby clothes, baby products) when they created the Little Suzy's Zoo line and characters. The original Suzy's Zoo stuff was very popular on eBay several years ago and this stuff would sell for big $$. The coloring books, stickers and stuffed animals were probably the most popular items, for example it wasn't surprising for the older or rarer coloring books to go for $40-60 a piece! I actually have several coloring books and am only missing 1 of the 403 single sheet stickers. Lately is has really died down and here in the US they mainly do the stationary now, though it has really become big in Japan and over there they are starting to release all those things like they had here. They are even working on opening a memorabilia museum and a cartoon for TV. Anyway, enough of the history of Suzy's Zoo! lol Here is the pic of the kit from the auction, I'm very happy I got it for a great price, $12 shipped. I want to stitch it for my best friend's daughter, the one I mentioned watching last Friday.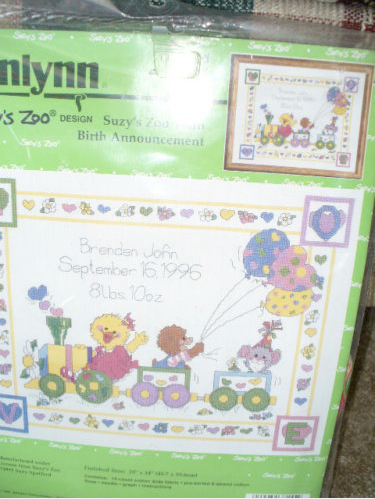 In case I don't post over the weekend
HAPPY MOTHER'S DAY
to all of the moms out there!!
Have a great weekend and thanks for reading! Nick